Woofs to Wags is a local, woman-owned Pennsylvania Limited Liability Corporation, serving the Main Line of Philadelphia, founded and owned by Annamarie Hessman.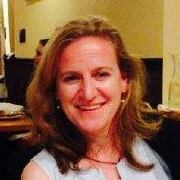 Annamarie holds post-baccalaureate certificates from Villanova University in Pre-Health Professions Science and Business Administration.
Annamarie completed Karen Pryor Academy's internationally-respected Dog Trainer Professional Program and Dog Trainer Foundations course, Dog*Tec's Dog Walking Academy, and Denise Mazzola's Canine Behavior and Training Academy. 
She had the privilege of participating in a working slot, with her leash-reactive border collie mix, Siofra, in one of Dr. Sophia Yin's final Reactive Dog workshops, hosted by Penn Vet's Working Dog Center.  Other recent workshops attended include those given by Pat Miller and Grisha Stewart.
Annamarie has volunteered at Francisvale Home for Smaller Animals and Penn Vet's New Bolton Center NICU as part of their foal-sitting program.  Most recently she has served New Leash on Life USA as a short-term foster.  She shares her home in Rosemont with two very creative dogs who also love clicker training.
Woofs is bonded and insured.  All Woofs Professional Pet Care Team Members are Pet and Human First Aid/CPR/AED Certified and experienced with caring for many species. We use state-of-the-art software to ensure safety and accountability.  We are committed to a compassionate, science-based approach to animal management and training. 
Woofs Team Members are employees, not contractors, carefully screened and trained before they interact with your pets.  We believe in a respectful working environment with continued education, workers' compensation and a commitment to a living wage.
Last but not least, we love animals and are committed to minimizing aversive techniques.
Professional Memberships
Certifications
Legal
Bonded and Insured through Business Insurers of the Carolinas
Background checks provided by Sterling and Acutraq